2020 BMW 2 Series in Wayne, NJ
Sorry, no items matching your request were found.
Reset Search
Every Drive is Next Level in the 2020 BMW 2-Series
When it comes to the small luxury car class, there is no option better than the BMW 2-Series. With a powerful lineup of engine options to choose from, a sophisticated sense of style, a spacious interior, and agile handling that's easy to the touch. Plus, with a wide array of standard features at your fingertips, the 2020 BMW 2-Series is truly the complete package.
What's New in the 2020 BMW 2-Series?
The BMW 2-Series returns for the new decade with a couple of notable improvements and additions. It has been given a visual refresh, courtesy of some new wheel designs, darkened taillights, a black or grey grille frame, and black exterior mirror caps. Rain-sensing windshield wipers are also now a standard feature.
The most notable change for 2020 is that this luxury car is more accessible than ever thanks to the arrival of the BMW 2-Series Gran Coupe. The Gran Coupe is an affordable four-door model that combines sleek coupe styling elements with the practicalities of a sedan.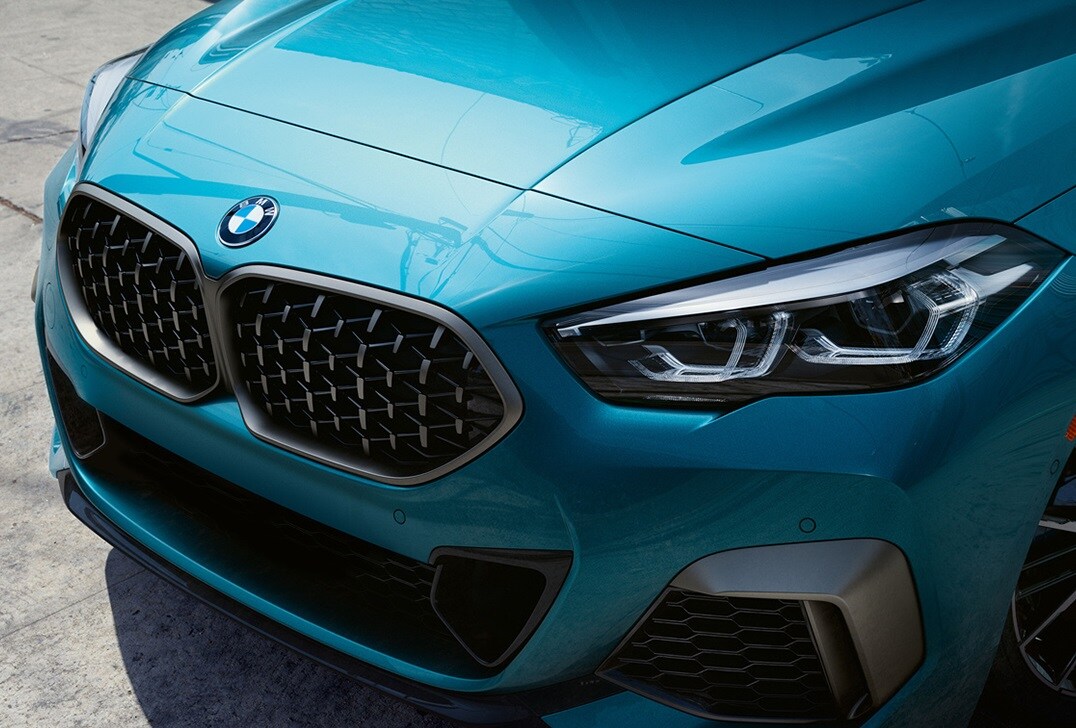 The 2020 BMW 2-Series Gran Coupe
The BMW 2-Series Gran Coupe is designed for aspiring BMW buyers and lessees around Paterson and Little Falls who don't want to settle for a pre-owned model or those who have more passengers to accommodate regularly. It is built upon the same platform as the subcompact BMW X1 and X2 SUV models, giving it a sturdy frame to work with. The exterior of the Gran Coupe catches more than its fair share of second glances, whether it's coming or going. Its bold double kidney grille highlights the company's recognizable shark nose from the front while the low, rounded roofline, sporty body details, and slim LED taillights comprise the back.
Performance wise, the BMW 2-Series Gran Coupe will impress even the most seasoned luxury car driver. Its 228i xDrive model comes standard with a 2.0-liter four-cylinder engine that gets a power output of 228 horsepower and 258 pound-feet of torque. Of course, you don't have to stop there thanks to its available 2.0-liter TwinPower Turbo engine that comes in the M235i xDrive model. This powertrain maxes out the BMW 2-Series Gran Coupe's performance metrics at 301 horsepower and 332 pound-feet of torque.
The interior of the BMW 2-Series Gran Coupe elicits a relaxing ambiance. It features BMW's first-ever illuminated trim that effortlessly sets the perfect mood for a night on the town in Totowa or calms the nerves during rush hour traffic near Caldwell.
For those who are always in need of the latest tech, the BMW 2-Series Gran Coupe doesn't disappoint. Its 8.8-inch touchscreen is intuitively angled toward the driver for easier use on the go, and it comes loaded with a variety of features including navigation and Apple CarPlay.
2020 BMW 2-Series Features
The standard BMW 2-Series is very much like you remember it. It's a compact, two-door, four-seater with agile handling and high-level performance. It comes in either a coupe or convertible body style, and with the all-new Gran Coupe model, bringing the grand total to three available body style options.
Performance
Its standard 230i model comes standard with an expertly engineered turbo-four engine that produces a performance output of 248 horsepower and a zero to 60 time of just 5.3 seconds. Of course, if that isn't enough for you, there are other options. The available 3.0-liter six-cylinder engine that comes standard in the M240i improves the power output to 335 horsepower and the zero to 60 time to 4.4 seconds. And for those who always need the best of the best, the sport-tuned M2 Competition model features a six-cylinder engine that gets 405 horsepower and a zero to 60 time of 4.2 seconds.
Questions? Contact Us Today
The 2020 BMW 2-Series Gran Coupe is arriving soon at Paul Miller BMW. If you have any questions about it or want to reserve one for yourself, don't hesitate to reach out to us.
Make an Inquiry